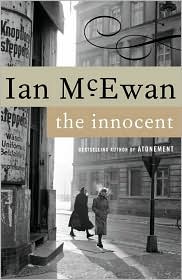 After finishing another Ian McEwan I am left officially in awe of his writing, its amazing. Having loved 'The Cement Garden', 'Atonement' and 'On Chesil Beach' I have been waiting for a McEwan novel to let me down and was worried that as I had heard so little about 'The Innocent' it might sadly disappoint. It didn't, it was brilliant.
The setting is Berlin in the mid 1950's, Leonard Marnham arrives 'an innocent abroad' working for the British-American Surveillance Team, though he feels he is part of something bigger he never knows quite what and becomes a pawn in a international game. However the spy story is only really part of the whole book, 'The Innocent' is also a tale of love. Marnham meets Maria in a bar after she sends him a drink, what follows is his first love affair, and a slight obsession, that leaves them bedridden only getting out to eat and occasionally wash and obviously to work. Maria is a dark character and has a history that she likes to keep secret. Two things change their relationship forever and as they do the book gets darker and darker.
From what appears to be a story of 'Operation Gold' or 'The Berlin Tunnel' (a true story of a CIA-MI6 collaboration that went wrong) McEwan creates a claustrophobic love story that becomes an obsession that then becomes possible one of McEwan's darkest tales (I didn't almost throw up as some people have according to their reviews, but it is quite grisly) taking you to a very desolate and desperate place.
It's a mammoth dark disturbing story, which is not what you would expect from the title or possible in so few pages and that to me is a sign of the mastery of McEwan. Now which one should I read next